Hebei Shida Seal Group can manufacture a variety of molded rubber parts in air intake systems of automobiles, commercial trucks and agriculture vehicles. An air intake hose a cylindrical piece of rubber that connects the air filter box and the intake manifold. Our air intake hoses can meet the exacting specifications of your air intake system.
Specifications of Air Intake Hoses:
Specifications

Material

Low Temperature ℃

High Temperature ℃

High Temperature ℃

(ID mm)

(Long Period of Time)

(Short Period of Time)

10~100

NBR+PVC

-40

100

125

10~100

EPDM

-40

110

130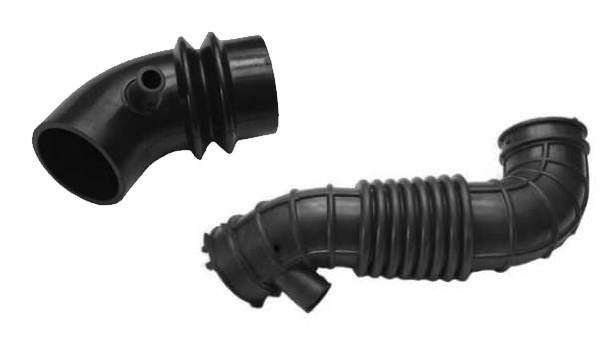 Features of Air Intake Hoses:
Reduce noise level and vibration

Resist tears and punctures

Won't harden from exposure to extreme operating temperatures, weather or age

Compression molded or injection molded
We manufacture molded rubber hoses for automotive and heavy-duty industries according to samples or drawings. Please feel free to Contact Us for prices!
Description

OE Number

Applications

Engine Air Intake Hose




Air Intake Boot

3C3Z9B659AA

Ford 2005-03

Engine Air Intake Hose




Air Intake Boot

17228RGLA00

Honda Odyssey 2006-05

Engine Air Intake Hose




Air Intake Boot

F12Z9B697A/F20113221B

Ford Probe 1992-89, Mazda 626 1992-90, Mazda MX-6 1992-90

Engine Air Intake Hose




Air Intake Boot

4861065

Chrysler 2000-97, Dodge 2000-97, Plymouth 2000-97

Engine Air Intake Hose




Air Intake Boot

1385052 / AJ5113221

Mazda MPV 2006-02

Engine Air Intake Hose




Air Intake Boot

17228P06A00

Honda Civic 1995-92, Honda Civic del Sol 1995-93

Engine Air Intake Hose




Air Intake Boot

0K01313221B

Kia Sportage 2002-95

Engine Air Intake Hose




Air Intake Boot

1788103110

Toyota Camry 2001-00, Toyota Solara 2001-00

Engine Air Intake Hose




Air Intake Boot

4669783AC

Dodge Neon 2005-00, Plymouth Neon 2001-00

Engine Air Intake Hose




Air Intake Boot

46013AE000

Subaru Baja 2003, Subaru Legacy 2002-99, Subaru Outback 2003-00

Engine Air Intake Hose




Air Intake Boot

10350742

Chevrolet Impala 2011-06, Chevrolet Monte Carlo 2007-06

Engine Air Intake Hose




Air Intake Boot

13711747995

BMW 540i 1994, BMW 740i 1995-93, BMW 740iL 1995-93

Engine Air Intake Hose




Air Intake Boot

1385054




L39013221A




L39013221B

Mazda 6 2008-03

Engine Air Intake Hose




Air Intake Boot

AJB413221A

Mazda 6 2008-05

Engine Air Intake Hose




Air Intake Boot

B59513220A

Mazda Protege 1996-95

Engine Air Intake Hose




Air Intake Boot

F32Z9B697B

Ford Probe 1997-93

Engine Air Intake Hose




Air Intake Boot

0K2A513220

Kia Sephia 2001-98, Kia Spectra 2004-00

Engine Air Intake Hose




Air Intake Boot

KL1113220D

Mazda 626 1997-93, Mazda MX-6 1997-93

Engine Air Intake Hose




Air Intake Boot

9141228

Volvo 850 1996-94, Volvo S70 1998, Volvo V70 1998

Engine Air Intake Hose




Air Intake Boot

1788120130




17881AA010

Lexus 2006-02, Toyota 2008-02

Engine Air Intake Hose




Air Intake Boot

28138-4D250




281384D200

Hyundai Entourage 2007, Kia Sedona 2010-06

Engine Air Intake Hose




Air Intake Boot

1788174640

Toyota Camry 1996

Engine Air Intake Hose




Air Intake Boot

17881-20070

Lexus ES300 1996-94, Toyota Avalon 1996-95, Toyota Camry 1996-94

Engine Air Intake Hose




Air Intake Boot

KL4713221

Mazda Millenia 2002-95

Engine Air Intake Hose




Air Intake Boot

25147232

Buick 1995-94, Chevrolet 1995-94, Oldsmobile 1995-94, Pontiac 1995-94

Engine Air Intake Hose




Air Intake Boot

25793362/25793363

Chevrolet 2010-05, Pontiac 2010-07, Saturn 2009-08

Engine Air Intake Hose




Air Intake Boot

178810D010

Toyota Corolla 2002-98

Engine Air Intake Hose




Air Intake Boot

17228P3F000

Honda CR-V 1998-97

Engine Air Intake Hose




Air Intake Boot

24507540

Buick 2005-02, Chevrolet 2005-99, Oldsmobile 2004-99, Pontiac 2005-99

Engine Air Cleaner Intake Hose




Air Intake Boot

178810D120

Toyota Corolla 2008-05, Toyota Matrix 2008-05

Engine Air Cleaner Intake Hose




Air Intake Boot

1788162040

Lexus ES300 1993-92, Toyota Camry 1993-92

Engine Air Cleaner Intake Hose




Air Intake Boot

17228RCAA00

Acura TL 2006-04, Honda Accord 2007-03

Engine Air Cleaner Intake Hose




Air Intake Boot

13541278947

BMW 318i 1985-84

Engine Air Cleaner Intake Hose




Air Intake Boot

17881-62020

Lexus ES250 1991-90, Toyota Camry 1991-88

Engine Air Cleaner Intake Hose




Air Intake Boot

F32Z9B697C

Ford Probe 1997-93

Engine Air Cleaner Intake Hose




Air Intake Boot

17881AB010

Toyota Camry 2006-02, Toyota Solara 2008-03

Engine Air Cleaner Intake Hose




Air Intake Boot

165782Y000 / 1657831U00

 Infiniti I30 2001-96, Nissan Maxima 2001-95

Engine Air Cleaner Intake Hose




Air Intake Boot

13711726208

BMW 525i 1990-89

Engine Air Cleaner Intake Hose




Air Intake Boot

24505502

Buick 1998-97, Chevrolet 2003-97, Oldsmobile 2004-97, Pontiac 2005-97

Engine Air Cleaner Intake Hose




Air Intake Boot

1788115180

 Toyota Corolla 1997-93

Engine Air Cleaner Intake Hose




Air Intake Boot

1385055 / LF6713221

 Mazda 3 2009-04, Mazda 5 2007-06

Engine Air Cleaner Intake Hose




Air Intake Boot

GY0113220B

Mazda MPV 2001-00

Engine Air Cleaner Intake Hose




Air Intake Boot

1657765Y10

 Nissan Sentra 1994-91, Nissan Tsuru 2012-91

Engine Air Cleaner Intake Hose




Air Intake Boot

FP47-13-220A

Mazda Protege 2003-99, Mazda Protege5 2003-02

Engine Air Cleaner Intake Hose




Air Intake Boot

25098669

Chevrolet 1995-92, GMC 1995-92, Oldsmobile 1994-92

Engine Air Cleaner Intake Hose




Air Intake Boot

1788162071




17881-62130

Toyota Tacoma 2004-95

Engine Air Cleaner Intake Hose




Air Intake Boot

XC3Z9B659AA

Ford 2003-99

Engine Air Cleaner Intake Hose




Air Intake Boot

AJ5713220A

Mazda 6 2004-03

Engine Air Cleaner Intake Hose




Air Intake Boot

B5C913221

Mazda Protege 1998-97

Engine Air Cleaner Intake Hose




Air Intake Boot

17881-0C010

Toyota 4Runner 2000-96, Toyota Tacoma 2004-95

Engine Air Cleaner Intake Hose




Air Intake Boot

96439858

Chevrolet 2015-04, Pontiac 2008-05, Suzuki 2008-07

Engine Air Cleaner Intake Hose




Air Intake Boot

13541438761

BMW 2006-01

Engine Air Cleaner Intake Hose




Air Intake Boot

165780W001

Infiniti QX4 2000-97, Nissan Pathfinder 2000-96

Engine Air Cleaner Intake Hose




Air Intake Boot

16576EA200

Nissan Frontier 2017-05, Nissan Pathfinder 2012-05, Nissan Xterra 2015-05